This introductory course offered by NCFED with NEDDE provides a full overview of the bariatric process, highlighting key psychological challenges for the bariatric patient at each stage and the key focus areas that lead to successful outcomes and freedom from distressed eating and harmful aspects of obesity. We discuss the nutritional requirements for patients & some strategies with the Neuro-divergent client in mind.
Hear from people who had surgery, highlighting their challenges, and how the surgery has affected their lives and relationships.
Course Details
Date: Recording available  -TBC2024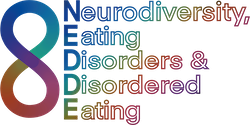 Fee: £295
Trainers: 
Lisa Smith (BANT Reg Nutritionist & Snr Lecturer
Bernie Wright – Eating Disorder Specialist (BACP Accred)   

Kim Rutherford – Psychotherapist & Author (NCS Accred)
You will Learn
You will learn the key stages of the bariatric process and post-surgery implications from a psychological, physiological and nutritional perspective
An introduction to bariatric surgery
The journey
The three stages of bariatric living
The risks and benefits of each bariatric surgery
Stage one: pre-surgery stage
Mindset for preparation
Psychological challenges: management of anxiety, identifying the relationship with food, unhelpful habits and unhealthy coping mechanisms with life and  other people.
Pre surgery nutrition requirements
How to prepare for surgery, how to gain the help and support of family and friends
Planning for post-surgery
Stage two: post-surgery stage
Managing expectations and challenges
How to handle weight change and its effects on other people
Psychological challenges, emotions, identity and stigma
How to deal with plateaus and malnourishment
Emotional outcomes including grief and loss, anxiety or low mood, body dysmorphia
The effect of prior eating disorders
How to develop a healthy relationship with food
Nutritional needs for the bariatric patient as the result of changes in digestion, absorption appetite and altered physiology. Emphasis is on avoiding nutrient deficiencies and ensuring macro-micro nutrient balance.
How to enhance physical recovery
Stage three: life-long maintenance
Creating the right mindset for lifelong maintenance of change
Weight gain risks
Psychological challenges: creating new comfort zones, finding new ways to deal with stress, adjusting to a new identity; rebuilding self esteem
Long-term nutritional needs, including the possible use of supplements, and ongoing testing. How to adjust the diet for long-term management of cravings & optimum health
How to support emotional wellbeing in people whose life may change "beyond recognition"
Other considerations. Is it all good news?