Men with eating disorders are coming forward at last to admit to their problems with food & weight. We are grateful for your courage.
Is this you?
Emotions & behaviour of men with eating disorders
An obsession with being fit and lean together with a fear of gaining weight.
Exercise routines that have gone out of control, feeling anxious and depressed if you miss your routine. Taking dangerous supplements perhaps.
Starving, eliminating particular foods, binge eating and/ or purging.
Denial that there is a problem, often getting angry with loved ones who express concerns about your behaviour.
Rigid and obsessive behaviour with food accompanied by a self-critical inner voice demanding perfection and obedience.
Withdrawal from normal life and spending a lot of time worrying and thinking about food and exercise.
Depression, anxiety, poor self-confidence and body image.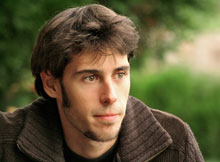 The next step
NCFED have both male and female counsellors who are eating disorder experts. You can trust them to support you in your journey. Would you like to know HOW you developed your eating problem and WHAT can be done? The first step is to have a no-obligation assessment (only £65) in person, by phone, by Skype, with someone who cares. The first step starts here.
Yes, I'm interested in a confidential assessment: