This is a review of various literature sources and does not contain statistics or in-report references. We give some references at the end of this article.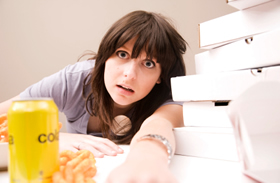 Bulimia Nervosa
This is a brief explanation of the eating disorder for the public and does not contain statistics or in-report references. If you need to know more look for recommended books on the book section of our website. To understand what bulimia is, bulimia nervosa treatment and where it fits, we need to explain a little more about what an eating disorder is. Eating disorders are harmful weight control behaviours. People who suffer from eating disorders attach great importance to weight and their self-confidence is seriously affected by how they think they look, compared with how they think they should look. Over time, the descriptions of the various eating disorders have changed. There is so much dieting and adoption of unusual dietary practices that it is hard to know when a person has a true eating disorder and when they do not. If the answer to the question "Does Eating Rule your Life is YES. Then someone probably has an eating disorder of some severity.
More information about bulimia nervosa
For more information about bulimia nervosa and bulimia nervosa treatment, you may scroll through the headings below. Do you think we need to add anything? If so please let us know.
Therapy for bulimia, what has to be addressed
This is a brief outline of the issues that have to be targeted in treatment for bulimia. There is no quick fix but there can be wonderful outcomes
A brief overview of therapies for bulimia
If you feel it would be useful to add anything to the list below, please let us know
Some references
Some References  Coping with Bulimia, Barbara French, Thorsons Bulimia Nervosa, a cognitive behaviour programme for Clients, Myra Cooper Todd and Wells, 2000 Jessica Kingsley Press Eating Disorders, Fairburn and Harrison, The Lancet, 2002 The Eating Sickness, Jill Welbourne, Harvesters Press Women's Secret Disorder, Marilyn Lawrence and Mira Dana, Graftons. Counselling for Eating Disorders, Sara Gilbert, Sage Publications. The Hungry Self" Kim Chernin, Virago. A Review of Bulimia Nervosa, International Eating Disorders Review, G. Russell, Wiley Press Summer 2004.