Some books that we especially recommend as the best for sufferers and for carers.
An Eating Disorder In The Family: How You Can Help  by Dr Rosie Helyar  DPsych, MBACP(Accred)  £5.50 Available only by calling us on 0845 838 2040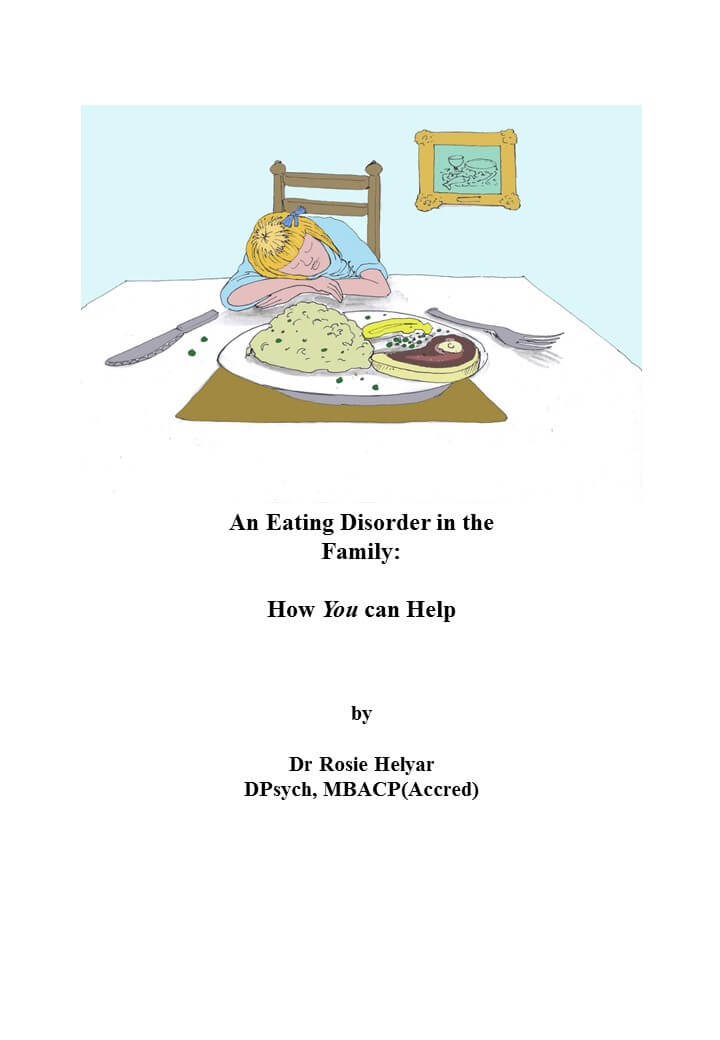 An easy to read, practical, must-have book to guide parents and carers through the maze of recognising an eating disorder, getting help and managing the fall out in the family. There are practical dos and don'ts, things that are helpful and things to avoid.  It recognises that eating problems vary according to individual circumstances and personality, and explains the importance of maintaining stable blood glucose levels by regular balanced food intake, as well as giving ideas for boosting self-esteem, which can help protect against the development of eating problems.
Parents and carers will  learn how their style of coping can be changed to help to induce recovery in their loved one.  You will also learn how to manage the shame that someone with an eating disorder typically feels and which keeps them trapped. We explore the myths surrounding food, dieting and weight loss, and provide sensible ideas for dealing with eating arguments where you have to walk on eggshells.  There is a  section on understanding eating disorders generally, and a two interviews give us insight into the experiences sufferers feel. Finally, there is a diagnostic questionnaire to help you to assess how serious the eating disorder really is.
 An Apple A Day by Emma Woolf, Summersdale Publishers
Emma documents her struggle to recover from anorexia so that she can fulfil her ambition to have a baby. Even when the will is there, the anorexia fights back. I think that this book should be read by everyone whose life has been affected by anorexia. Sufferers will share Emma's struggle to take their lives back, and loved ones will understand better than anorexia is not just the wish to be thin and that recovery can be harder than staying ill. This book is at the top of my should-read list. Buy this book at Amazon
 Counselling for Eating Disorders by Sara Gilbert, Sage Publications
Sara is an experienced eating disorder clinician writing mainly for professionals about the eating disorders and their treatment. This guide gets right to the heart of what an eating disorder means and what can be done. Clear, comprehensive and informative, this is the book  I sell in hundreds at all our training events. Sara knows how to communicate her subject and whether you are a sufferer or a beginner dipping into this vast subject, or even an expert, you will find something to inspire you in this book.
"Where Has My Little Girl Gone" / "Taming the Tiger Parent" both by Tanith Carey
In "Little Girl, " Tanith exposes the way in which our daughters are being exploited by commercial and cultural pressures to have them grow up too fast, at the expense of their feelings about their bodies and their self worth. In "Tiger Parent", Tanith shows us how we have unwittingly fallen into a black hole of stress to have our children succeed and keep up with others in a highly competitive world. The cost is deep unhappiness at the least, and mental illness, eating disorders or obesity, self harm and suicide at the worst. Packed with insights, experts' tips, real experiences and resources, this book is a timely guide to safeguarding children's well-being in a competitive world – so they can grow into the happy, emotionally balanced people they really need to be.  Find Tanith's book here
Emma Woolf: Letting Go: How To Heal Your Hurt, Love Your Body and Transform Your Life;
Emma has moved on and has confronted the remaining control mechanisms which ensnared her in echoes of a ferocious anorexia. This is her story, and it will inspire people who are struggling with their own eating disorder. I will recommend this book to patients and therapists alike.  Find it on Amazon and follow her footsteps.
Life Without Ed: Jenni Schaefer
Jenni had been in an abusive relationship with Ed for far too long. He controlled Jenni's life, distorted her self-image, and tried to physically harm her throughout their long affair. Then, in therapy, she learned to treat her eating disorder as a relationship, not a condition. By thinking of her eating disorder as a unique personality separate from her own, Jenni was able to break up with Ed once and for all. – See more
 Fight For Freedom: Rose Anne Evans
Sometimes a book comes along that will really speak to a young sufferer. This is the one.

It shows how Rose Anne battled the anorexic voice to set herself free from its rules, its savage criticism and its torment. Rose Anne has reclaimed her life and we recommend this book to any parent and any young person who has decided, for whatever reason that she must starve.
Dr Nicola Davies: I can Beat Anorexia
A more adult look at what needs to be done to help you break free from anorexia.

Nicola is both a qualified Chartered Health Psychologist and also a former sufferer, who knows exactly what the illness feels like. She understands that recovery is not just about gaining weight, it is making eating feel deserved.  To read this book will inform both suffers and health professionals, giving you a thorough tour through all the different therapies that can be helpful.