Learn how greatly food (whether for you or for your clients) affects your mood, mental health, wellbeing, and joie de vivre. If you work in any mental health setting, this short course will provide a vital missing piece for your ability to help people with low energy and poor mood.
Is your patient unhappy?
Do you work with people who are unhappy, possibly on medication for anxiety, panic, racing thoughts, depression or irritability? Do they have difficulty sleeping? Perhaps it is not all in the mind. You may have tried to help them manage stress, correct their troublesome thoughts, manage their financial issues or explore their early experiences in life.
In this workshop, explore the emotional and physiological processes that may be caused by your client's eating choices. You might learn something that will transform your own well-being.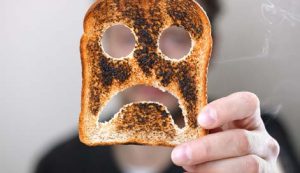 Why is Food Important?

As you seek to make sense of someone's difficulties, how often do you think to explore their eating and drinking habits? Even something as benign as  diet soda might have horrible effects on their mood. What we eat has a huge effect on how we feel, in fact one might say that food is the most powerful mood-altering drug there is. Few psychotherapists or coaches have the skills to know when diet is destructive, or know how to signpost their person to resources that will help.  They will not need to follow a boring diet, or take expensive supplements. Simple strategies such as drinking more water, adjusting caffeine or even eating more of the right fats will help anyone, regardless of their  income, their dietary tastes or even the demands of their families.

Suitability - whoever you are

If you work with ANYONE in a medical, or a mental health or coaching capacity, this course is suitable for you.  But why do this course simply for other people? If you want to use food to boost your own mood and transform your own wellbeing, this course is for you. There will be no diet talk, no calorie counting and no attempts to guilt people into following a so-called healthy diet. But small tweaks to what you eat, and what your clients eat, can make a difference to your mood and sense of wellbeing.

What You Will Learn

The relationship of nutrition with mood
How nutritional imbalances link to depression, generalised anxiety disorders, panic attacks, addictions and fibromyalgia
Essential neurotransmitters and nutritional deficiencies
Why serotonin is so important, and how to eat it!
Nutrition and stress – the connection.
Adrenal and thyroid function
The effects of under-eating and binge eating
Sugar, the effects of unstable blood sugar, and the brain
Candida, gluten intolerance and the link to mental health
ALSO
How to recognise when your client has an eating disorder and what to do about it
Food and mood diaries as a therapeutic and motivational tool
How an exploration of a client's food and eating patterns can be integrated into a therapy or practice session
How to consider the impact of a client's lifestyle on body, mind and emotion as the standard approach to therapy
How our thoughts, feelings and behaviour are affected by nutrition, sleep and digestion
Foods that heal mental distress
Mood boosting nutrients and the magic superfoods.
Mood busting anti-nutrients  you don't even know you are eating
The 2nd brain;-  the gut and new understandings about its importance for mental health.
Useful information to give to clients in a simple and practical way.
Where and When
This course is provided via ZOOM  by  Bridin McKenna, UKCP psychotherapist & eating disorder clinician, of Life Therapies Clinic and Training, Belfast
Date: 20 & 21 February 2021
Investment: £245
Booking: book online  or call 0845 838 2040 to secure your place